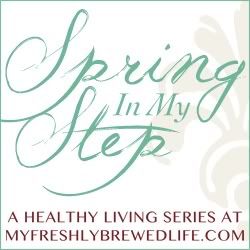 Introducing…
Stephanie of Girl of Grace is a stay at home mom of two toddlers, a three year old pretty princess daughter and two year old wild and crazy monkey son, and another little one on the way.  She has struggled with postpartum depression and anxiety since the birth of her second, but God has given her victory as He reminds her daily of the hope and peace that can only be found in Him.  She has also recently discovered a dairy and gluten intolerance, but embraces the new challenges it brings because she knows it's an important part of her healthy living journey.  She enjoys reading, sewing, cooking, singing, and writing, but her greatest joy comes from watching her little ones' hearts grow in the knowledge and understanding of the Lord.
I still remember the day my cardiologist told me I was overweight.  I was a shy, self-conscious 13 year old, post heart surgery to repair a birth defect only recently discovered…and I was furious.  Who does he think he is?  My weight is my business! I thought.
But the truth was…I knew I was overweight.  I knew it the day I played dress up with a group of friends and I couldn't fit into a single dress that every one of them could easily slide into.  I knew it when I went clothes shopping and I often had to shop in the women's section because the junior's sizes were too small for me.  I knew it every time I looked in the mirror and the word "fat" jumped out and reared its ugly head at me.
After the anger and tears wore off, I realized I had to make a choice.  And I chose to make a change.  With the help of my grandma and my aunt, I began a Weight Watchers journey.  Every time the three of us would get together, we'd go on a long afternoon walk, talking about our successes/failures and encouraging each other to keep going.  I also began daily walks with my neighbors' newborn baby girl as my walking partner.  Her coos and giggles made me want to walk further and harder, every distance closer to my goal weight.
I finally reached my goal weight several months later, 30 pounds lighter.  But the real victory was the feeling of accomplishment and newfound confidence I had in myself.
Fast forward 10+ years later and two kids in less than two years…and I was now 50 pounds heavier and completely overwhelmed as a young mom of two under two.  I would cry every time I looked in the mirror or stepped on the scale.
Finally, my husband encouraged me to join the Y.  It was his encouragement and steadfast love that made me realize I had a choice to make once again.  I could choose to wallow in self pity…or rise up and make a change.  I was sick of the "fat" girl image screaming at me…and I was sick of feeling unhealthy.  At the Y, I fell in love with exercise and I found me again.  My kids loved going to the drop in daycare and I enjoyed the natural high that comes from a good workout and a quiet, relaxing shower afterwards.
In September, I fell in love with running, something I never ever thought I would do.  After all, I was the "fat" girl who had never once run a mile.  I fought the fear that I couldn't do it and proved to myself I could even run a 5K.
I am not quite at my goal weight, but I am once again 30 pounds lighter…and almost 12 weeks pregnant with our third little blessing.  I like to call this more than a weight loss journey – it's a healthy living journey.  Because, while I started this journey to lose weight, it's become more about making lifelong changes towards a healthy life.
I tell my daughter often that she is beautiful, but I want her to believe that.  I don't want her to struggle with food and weight like I have.  I want to set an example of an active lifestyle and healthy living so she can learn to make healthy choices throughout her own life.  And I want this little one to have a fresh, healthy start to life, with a mom who is not only physically healthier, but mentally healthier too.
*   *   *
As part of our goal towards healthy living, we've adapted a whole foods diet, making food from scratch, and avoiding as much processed food as possible.  I wanted to share one of our favorite, go-to recipes to encourage you that healthy living isn't about bland, boring food.  Eating healthy actually tastes way better than the unhealthier options, because there is so much more flavor in foods that are natural and whole.
Healthy Energy Boost Smoothie
Ingredients
1 banana
½ cup strawberries (frozen or fresh)
¼ cup fresh mango (peeled and cubed)
1 TBSP natural peanut butter
¼ cup (gluten free) old fashioned oats
½ cup water, orange juice, or milk
Optional: 1 TBSP Flaxseed meal
Instructions
Mix all ingredients in a blender until well blended and pour into your favorite smoothie cup.
Notes
Mix all ingredients in a blender until well blended and pour into your favorite smoothie cup. I often enjoy this as breakfast or lunch. For lunch I might add a little more peanut butter to add a few more calories, but it is the perfect portion for breakfast. If I make this as a snack, the kids and I will split it into three smaller cups for us to share.
The great thing about a smoothie is you can really add whatever fruit you have on hand. It is so easy to create your own version of this smoothie by replacing or adding your favorite ingredients. Some other ingredients we love: ¼ cup chocolate chips (we use Enjoy Life dairy free), ½ cup blueberries, raspberries, or blackberries (instead of strawberries), 1 TBSP honey or agave nectar (instead of peanut butter).
http://myfreshlybrewedlife.com/2012/03/more-than-weight-loss-spring-in-my-step-guest-post.html
This is one recipe my kids love; they are always begging for more!