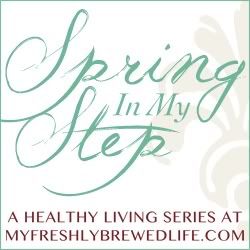 Introducing…
Dolly is gratef
ul for how God's love continues to daily transform her.  She is also thankful for her best friend/husband, and their answer-to-prayer daughter.  Some of her favorite things include conversing with God, sharing a meal with her family and friends, reading anything true and encouraging, and appreciating God's artistic design displayed in nature.  Getting out of her comfort zone means she blogs at Soul Stops about her journey with God.  She recently joined Twitter (@Soulstops).
Hello My Freshly Brewed Life readers!  I am excited today to introduce you to one of my favorite food friends.  If you befriend my humble companion, then you become healthier.  Drum roll, please…
Fiber.
Yes, good ole' fashioned fiber. This easy recipe is high in fiber and delicious.
My friend Christy gave me this recipe for Split Pea Soup. I will give you her original recipe and how I have modified it.
Split peas are a great source of soluble fiber which helps "lower blood cholesterol and glucose levels."  One-fourth cup of dried split peas will give you:
a whopping 12 g of fiber
12 g of protein, and
10% of the RDA of iron.
For more on the benefits of eating fiber daily, read this Mayo Clinic article on Dietary Fiber: Essential for a healthy diet.
Ingredients
2 C. dried split peas
8 C. water (or you can use vegetable or low-sodium chicken broth for more flavor)
2 carrots (chopped)
4 ribs of celery (chopped)
1 bay leaf
1 T. onion powder (or I diced one whole onion)
1 pinch of cayenne (I used a generous pinch)
2 t. salt (I used one t. since there was salt in the broth)
1/4 t. pepper
Instructions
Rinse the split peas and remove any that are discolored etc.
Sauté the diced onion for a few minutes till softened, then combine it with all of the other ingredients in a crock pot where I let it cook on high for about 4-5 hours, or if you put it in the morning, or at night, you can let it cook for 8 hours on low. It depends on your crockpot and how much time you have.
Notes
ANOTHER OPTION: If you don't have time to sauté the onions, you can simply dice them and put them into the crockpot. The soup will still taste good but it won't be as flavorful. I know because I did that the first time I made it. My husband and I could both taste the difference when I took the time to sauté the onions for a few minutes till they were translucent and softened. If you are pinched for time, you can use 1 T. of the onion powder in lieu of real onions. YET ANOTHER OPTION: My friend Christy pre-soaks her peas for 2-4 hours, throws out the soaking water, then cooks everything in a stock pot on medium heat for one hour. She uses one tablespoon of onion powder (instead of a fresh onion). I didn't have any onion powder at home, but I did have one round organic onion so that is why I made the substitution.
http://myfreshlybrewedlife.com/2012/03/split-pea-soup.html
We enjoy this soup for lunch or dinner with a slice of whole-grain bread. Hope you like this soup and that it becomes a delicious way to incorporate more fiber into your daily diet.
Thanks, Barbie, for letting me share this recipe as part of your Healthy Living Series.