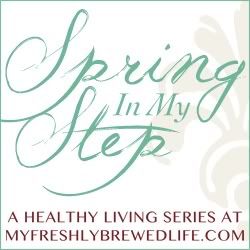 Introducing…
Melanie is a full-time wife and mommy of two lively little boys. She writes at Only a Breath as a real-life exploration of living faith. Her heart's desire is to encourage others and to share with them the joy of Christ and the hope of His unfailing love.
*     *     *

As a busy mom, I know how challenging it can be to find time to exercise. With housework, helping with homework, dishes, cooking, laundry, work deadlines, packing lunches, and all that comes with being a mom (whew!) — exercise can get pushed to the back burner and instead of enjoying it, it can often feel like just one more cumbersome item on the "to do" list.
… and I don't know about you, but adding anything else cumbersome to my "to do" list makes me want to scream and cry in the fetal position.
But the great news is that it doesn't have to be this way! Finding time for fitness as a busy mom may be challenging, but it is definitely not impossible!
Here are some tips to fit in fitness … and maybe even enjoy it!
1. Start Small
Confession time — (you won't tell, right?) — I tend to be an "all or nothing" kind of gal. If I decide to exercise, I expect myself to work out 7 days a week, a solid hour at a time, eat no sugar, drink a million ounces of water a day, sign up for that marathon…. well, you get the idea. After only a few days of keeping this pace (or "torturing myself", whatever way you would prefer to look at it), I give up and decide that I am just not the "exercise type". Then, I sit on the couch and eat Oreos…
However, I have found that if I start out slowly, I actually stay with exercise much better! For example, I challenge each of us (myself included!) to find only 8 minutes to exercise today. Why only 8 minutes? Well, 5 is so short we might skip it… and 10 sounds a little too long for the first day, so let's try 8 minutes (and chances are, once we get started, we'll hit 10 minutes!). Each day, try adding 1-2 minutes, and you will soon notice your increase in energy and stamina!
2. Ask Your Kids to Join You
My kids LOVE to exercise with me! They are so cute and come running over when I start an exercise DVD. They enjoy jumping around with me, and even use old paper towel rolls as their "hand weights"! My three-year old is very affectionate, and when he knows Mommy is going to do push-ups, he will run over and lie under me in the floor on his back. When I lower myself in a push-up, I will give him a little kiss each time. I used to hate to do push-ups — now I love them!
… and they sleep much better after exercising with Mommy! (Just another added bonus!)
3. ….or, Join Your Kids!
Have you ever tried to keep up with your kids on the playground? If so, you will testify to the fact that "playing" is a whole 'lotta exercise! Try joining your kids when they are playing, and get a great workout while enjoying time with them! Kicking a soccer ball, biking, playing basketball, swimming, and even "freeze tag" are great way to exercise while having fun with your kids!
… and all that playing will earn you the "Cool Mom" award from your kids!
4. Mix it Up!
There are SO many different ways to exercise! If you find yourself becoming bored, switch it up! Try cardio one day, pilates the next, zumba the next, etc. I enjoy fitness DVD's so a little trick I use to keep from becoming bored it to number my DVD's and randomly draw a number when I am ready to exercise (kids love to help with this too!). After drawing a number, I find the DVD matching it, and exercise with it!
5. Find What Works for You
Find the workout style that works best for you! Many people enjoy going to the gym, but for me, I just miss the time away from my kids. So, exercising at home is a good solution for me. I have friends who enjoy running alone because it gives them time to think and pray with no distractions. I love that! Isn't it wonderful that we are so uniquely made? If your exercise routine is not working for you, please don't assume it's YOU that is the problem, sweet friend. Perhaps you just need to try a new routine!
What are your tips for fitting in fitness? I would love to hear them! Did you find any of these tips useful — if so, which ones are you going to try?
Wife, working mom, nana, artist, worshipper, coffee drinker and chocolate lover. My heart is to encourage women in their walk with the Lord. Thank you for stopping by and come again soon!